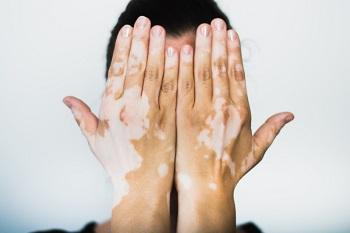 Vitiligo is a skin condition that affects more than 200,000 men and women in the United States each year, with half of those affected noticing symptoms before age 20. Although the exact cause of vitiligo is unknown, it is thought to be an auto-immune condition. In fact, it often occurs in combination with other auto-immune conditions, including rheumatoid arthritis. Additionally, the condition is directly linked to hereditary causes in about one-third of cases.
When you have vitiligo, you will have patches of white skin, caused by loss of melanocytes, the skin cells responsible for skin color. It can start on the feet, hands, or face, and become progressive over other areas of the body. The condition can cause problems with your skin, eyes, inner ear, hairs, and mucous membranes, causing white blotches in these areas.
Vitiligo cannot be cured, however, your dermatologist can help treat its symptoms and minimize its impact on your life. Treatment for this condition generally aims to restore normal skin color by repigmenting the skin. New melanocytes may be transferred from other areas of the body, including the base of hair follicles, or the edge of the affected area. Repigmentation is a gradual process that can take months to years.
Other treatments for vitiligo include prescription steroid creams or non-steroidal anti-inflammatory creams, These creams are applied twice each day and begin to show results in three-to-six months.
Lasers are also an effective treatment to promote repigmentation of the skin. The Excimer laser is a common tool that uses ultraviolet B light. A series of laser sessions is required with touch-up maintenance sessions later on.
Vitiligo can also be treated with some cosmetics to create a more uniform skin color and hide white patches. Sunless tanning products can also help darken the white patches, creating a more harmonious skin color. For extensive areas of pigmentation loss, depigmentation therapy might be recommended to bleach out all pigmented skin, producing an even skin tone.
If you have been struggling with vitiligo, call your dermatologist today to learn about your treatment options!